The first computer-based test for National Testing Agency-National Eligibility Test 2018 (UGCNET)-was held on Tuesday.
Pegged as one of the most secure tests in the country so far, the candidates underwent multiple layers of checks and each entry across 598 centres was monitored in real-time at the NTA headquarters in Noida through live CCTV cameras for the first time. A total of 4,000 jammers were also put in place.
TOI got exclusive access to the monitoring practice on the first-day of the exam, where activity at the control room started early in the morning as candidates started coming in. The exams were monitored at three levels - at the centre, state and headquarters for which 24 state coordinators, 295 city coordinators and 742 observers were positioned.
A total of 9.5 lakh candidates registered for the test, which is being held over five days (December 18-22) for the first time. Each day there are two slots at 598 centres in 91 cities.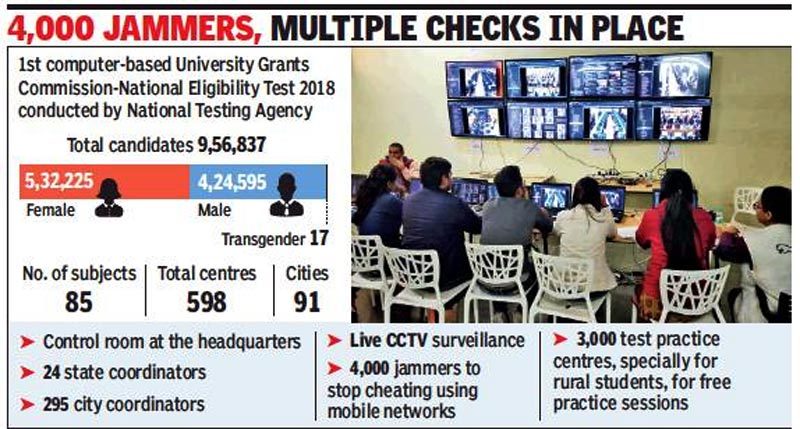 "We had a glitch- free first day of UGC-NET. While we are assuring the candidates of the highest professional conduct of the exam, we also envisage to present one of most scientific tests. We also look at designing the items (questions) which is more in sync with the skills required for the sector," said Vineet Joshi, director-general, NTA. He added that it was a challenge to conduct the exam in Kashmir in sub-zero temperature.
NTA also set up a network of over 3,000 test practice centres, especially for students of rural areas, to offer free practice sessions, which were utilised by over 1 lakh aspirants.
NTA's next major test will be JEE (main) next month.
Upcoming Entrance Exams Details 2019-20
MAT
Exam date: 02 Sept 2018
Last date of Application: 24 Aug, 2018,
GATE
Exam date: 02nd Feb 2019
Last date of Application: 21st Sept 2018
SIAC-CET
Exam date: 4 Nov 2018
Last date of Application: 14 Sept 2018
CDS
Exam date:18 Nov 2018
Last date of Application: 3 Sept 2018
NSTSE
Exam date:16 Dec 2018
Last date of Application:1 Aug 2018
XAT
Management
Exam date:6 Jane 2019
Last date of Application: 30 Nov 2018
JEE MAIN
Engineering
Exam date:6 Jan 2018
Last date of Application:30 Sept 2018
CTET
Teacher Education