One set believes it will curb manipulation by schools; others suggest ways to prevent it
MUMBAI: The city schools are divided over the Maharashtra education board's decision to scrap internal exams — weighing 20 marks — for languages for Class 9 from this academic year (2017-18) and for Class 10 from the next year.
A circular issued by the board last week announced that students will have to write 100-mark papers for languages — English, Hindi, Marathi, and others. Earlier, these subjects were divided into a 80-mark written test held by the education board and a 20-mark internal exam that was conducted by the school.
Schools were marking students unfairly in the internal assessments, said educationists. The tests lacked benchmarks or criteria on the basis of which the marks were allotted and scores were inflated, they alleged.
Also, teachers were accused of giving better scores to their favourite students.
"Schools had started using internal marks as a disciplining tool," said Mustafa Sakharwala, who runs a coaching class in Byculla. "Teachers threatened to cut marks in vivas if students didn't behave in the class."
Some principals are in favour of scrapping the marks and alleged that a few schools used it for their own gains. "Schools wanted to better their passing percentage. At times, even mediocre students are given full marks so that the school achieve 100% passing percentage," said Eric Elavia, principal, Lady Engineer School, Tardeo.
However, a few experts said internal assessments in the form of oral and practical exams or assignments and projects was required to assess multiple intelligences in the classroom.
"Some students are better at expressing themselves through words rather than writing," said Vinita Raja, principal, Sacred Heart School, Kalyan. "So it is unfair to asses all students only on the basis of written exams."
Experts suggested other ways to weed out the problems in the internal assessments.
One suggestion was to appoint external examiners to evaluate students, much like the science practicals in Secondary School Certificate (SSC) and Higher Secondary Certificate (HSC) exams.
INTERNAL ASSESSMENT: NO LONGER A STUDENT'S SAVIOUR
The Maharashtra State Board of Secondary and Higher Secondary Education issued a circular on July 13 and cancelled internal assessments for languages. The circular reads: Class 9 and 10 students will not be cushioned by internal exams conducted by the school — they carry 20 marks — for languages such as English, Marathi, Hindi, Sanskrit, French, and others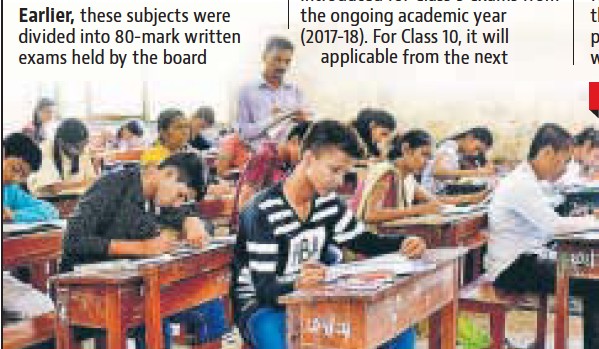 This means students will have to write 100-mark papers for both subjects
Earlier, these subjects were divided into 80-mark written exams held by the board And 20-mark oral exams that were conducted by the schools
Social studies will now be include in a 40-mark written test for history and 40 marks for Geography, while 20 marks will be for Civics and Economics
New marking pattern will be introduced for Class 9 exams from the ongoing academic year (2017-18). For Class 10, it will applicable from the next academic year (2018-19)
Decision to scarp internal assessment was taken after it came to fore that schools gave full marks to students in internal tests, even if they were absent for the exam
Education department had formed a panel of experts from the state board and textbook publishing bureaus to come up with the new marking system.
THE FLIP SIDE