JEE Main 2019 registration: The online registration for the Joint Entrance Examination (JEE) Main, which will be conducted by the National Testing Agency (NTA) from 2019 onwards, has started from today, September 1. The examination was earlier being conducted by the Central Board of Secondary Education (CBSE) for admission to NITs, IIITs and CFTIs participating though central seat allocation board. Interested lot may apply at the official website — nta.ac.in or jeemain.nic.in. The question paper shall be made available in English, Hindi and Gujarati.
Read | JEE Main 2019 registration: Application, how to apply, eligibility, syllabus, important dates
Along with the JEE score, a candidate should have secured at least 75 per cent marks in class 12th or should be in the top 20 percentile in the 12th examination for obtaining admission to the above institutes.
For B.E/ B.TECH: The aspirant should have passed class 12th with physics and mathematics as compulsory subjects along with chemistry/ biotechnology/ biology/ technical vocational subject.
For B.ARCH/ B.Planning:The aspirant should have passed class 12th with Mathematics.
Eligibility: An aspirant should have passed their class 12th examination or equivalent in 2017 or 2018. Those appearing in their 12th examination or equivalent in 2019 are eligible to appear in both January, 2019 and April, 2019 JEE (Main)-2019 examination.
Exam twice a year: Aspirants will now be able to attempt JEE Main twice a year now, one in January and the other in April. The registration for the first attempt will end on September 30, 2018. For the second attempt, registration will begin from February 8, 2019 and will end on March 7, 2019. JEE Main will first be conducted between January 6 and 20 and next it would take place between April 6 and 20. A student will be able to improve his/ her score in the second attempt, if not first without wasting his year. Best of the two scores will then be taken into consideration for merit list.
Shifts: The exam will be conducted in different shifts. The first shift will be carried out from 9:30 am to 12:30 pm and the second one will take place from 2:30 pm to 5:30 pm.
Mode of examination: Paper-1 which is for B.E/ B. Tech admission will be conducted in computer Based test (CBT) mode only. Paper-2 for B.Arch/ B.Planning admission will be held for mathematics- part I and aptitude test-part II in CBT mode only and drawing test -part III in pen & paper based mode.
Provision of scribe and extra time: The visually challenged candidates, who have 40 per cent or more disability, will be provided scribe/ reader. They will have to submit the request in writing to the centre superintendent for the same at least one week before the examination. They will also be provided one hour extra.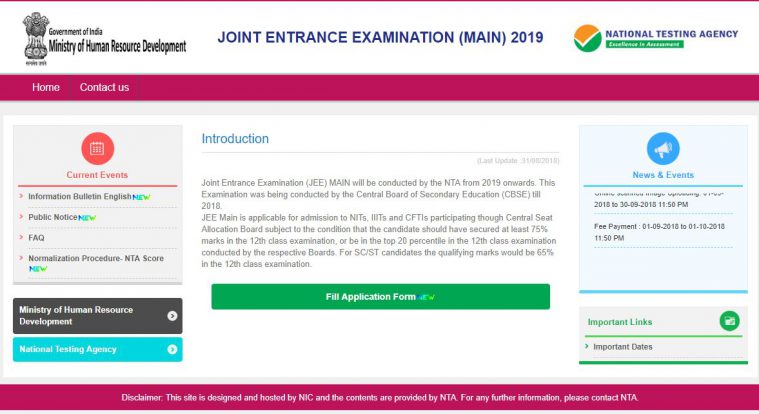 Recommended Books
Books play a very important role for the preparation of any kind of examination. The following table shows the names of the books which every aspirant must study:
Upcoming Entrance Exams Details 2018-19
CAT
Exam date:25 Nov 2018
Last date of Application: 19 Sept 2018
MAT
Exam date: 02 Sept 2018
Last date of Application: 24 Aug, 2018,
GATE
Exam date: 02nd Feb 2019
Last date of Application: 21st Sept 2018
SIAC-CET
Exam date: 4 Nov 2018
Last date of Application: 14 Sept 2018
CDS
Exam date:18 Nov 2018
Last date of Application: 3 Sept 2018
NSTSE
Exam date:16 Dec 2018
Last date of Application:1 Aug 2018
XAT
Management
Exam date:6 Jane 2019
Last date of Application: 30 Nov 2018
JEE MAIN
Engineering
Exam date:6 Jan 2018